CNC Link Motion AC Servo Press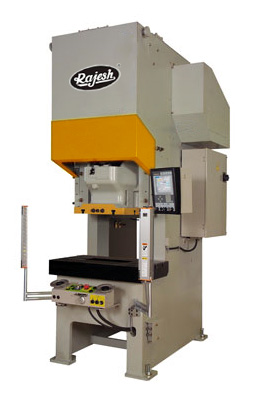 Blanking
Drawing
Sheet Forging
Processive
Transfer
Servo Advantages1
Major increase in forming performance and producttivity due to the free motion mechanism. Extremely advanced press enabling optimal motion matched to work requirements.
Servo Advantages2
The highly accurate linear sensor maintains high bottom dead center accuracy over a long period of time. Gives outstanding performance in blanking and precision forming of sheet metal.
Servo Advantages3
As a clutch is used,a major reduction in maintenance costs has been achieved. Thanks to the newly developed hybrid drive mechanism,a large output with a smoll motor has been achieved and power costs are very low.
Main Specifications
RCNC35

RCNC45

RCNC60

RCNC80

Capacity(KN)

350

450

600

800

Slide
storoke(mm)
80
40
100
50
120
60
130
100
Max.speed
(min-1)
120
240
100
200
85
150
75
110
RCNC110
RCNC150
RCNC200
Capacity(KN)
1100
1500
2000
Slide
storoke(mm)
150
110
200
130
250
160
Max.speed
(min-1)
65
100
55
85
50
70